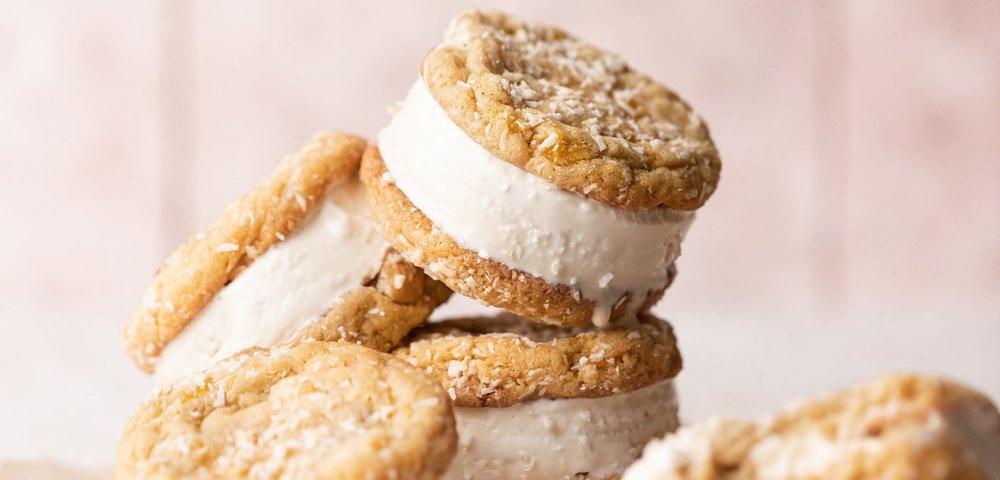 Pineapple-Coconut Ice Cream Sandwich Cookies
Ingredients
For the ice cream:
1 quart Country Fresh vanilla or pineapple ice cream
For the cookie dough:
6 tablespoons unsalted butter, room temperature
¼ cup granulated sugar
¼ cup + 1 tablespoon light brown sugar, packed
2 large egg yolks, room temperature
1 teaspoon coconut extract
¼ cup crushed canned pineapple, drained and squeezed in paper towels until dry
3/4 cup + 2 tablespoons all-purpose flour
¼ cup unsweetened shredded coconut, plus more for garnishing
½ teaspoon baking soda
¼ teaspoon kosher salt
How to
For the ice cream:
Leave ice cream out on the counter for 15 minutes to soften. Spread ice cream in an 8-by-8-inch pan and smooth it until it's even. Freeze 4 hours, or overnight.
For the cookie dough:
In the bowl of a stand mixer, cream butter, sugar and brown sugar on low speed for 1 minute to combine. Mix in egg yolks, and then scrape down the bowl with a rubber spatula. Mix in coconut extract and crushed pineapple. Add flour, shredded coconut, baking soda and kosher salt, and mix until just combined.
Scoop the dough with a regular-sized (2 tablespoons) cookie scoop onto a parchment paper-lined baking tray. Freeze the dough until solid, about 15–20 minutes. Heat oven to 350 F.
Before baking, roll each ball in shredded coconut. Spaced 2 inches apart, bake cookies 11–12 minutes, or until just the edges are barely golden brown. Let cool completely on a wire cooling rack before removing, and then place cookies in the freezer for at least 15 minutes, or until ready to use.
To assemble:
Separate cookies into pairs of the same size, and then match them with a round cutter of the same size (about 2½ –3-inch round cutter.) Use the round cutter to cut a round from the pan of ice cream. Dip the cutter in hot water and wipe dry in between for smooth cuts. Place the cut ice cream on one of the cookies and sandwich it with the other. Freeze immediately. Repeat with remaining ingredients. Allow cookies to freeze completely before eating.
Recipe and image provided by Half & Half magazine.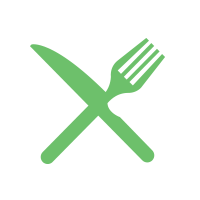 Other Recipes You Might Like