Ingredients
Butter, for greasing pan
4 classic caramel apples, chopped into 1-inch cubes
½ cup plus 2 tablespoons flour, divided
1½ teaspoons ground cinnamon, divided
2 tablespoons sugar
¼ lemon, juiced
¼ cup old-fashioned oats
½ cup brown sugar
¾ cup salted butter, cold and cut into cubes
Country Fresh ice cream, for serving
How to
Heat oven to 350 F and grease an 8-by-8-inch baking pan with butter. Place onto a foil-lined baking sheet and set aside.
In a large bowl, combine caramel apples, 2 tablespoons flour, 1 teaspoon cinnamon, sugar and lemon juice. Pour into prepared pan. In that same bowl, add remaining flour, remaining cinnamon, oats, brown sugar and butter. Cut together with a pastry cutter or using clean hands until crumbles are formed.
Top apples with crumb mixture and bake 25–30 minutes, or until bubbling and the top is browned. Let rest 30 minutes before serving with ice cream.
Recipe and image provided by Half & Half magazine.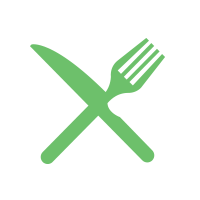 Other Recipes You Might Like